We develop about your requirements
Innovative automotive engineering, precision manufacturing and individual design – these are what define Lütgemeier GmbH from Steinhagen in Ostwestfalen. For over 40 years, the experts for production technology have worked passionately on their complete ready-to-install solutions for motorsport and prototype construction.
Klaus Lütgemeier, who gave his name to this enterprise, established the company in 1970 and commenced manufacturing and distributing turbo aftermarket systems from Turbo May GmbH. Because of this the company got in touch with the world of motorsports. Lütgemeier GmbH developed itself over the following decades, working closely with customers to meet their aspirations and requirements. Jochen Hülsmann, Bernd Naujoks and Jürgen Schwinghammer continued management of the company from 2002, growing it to become one of the leading manufacturers today of prototypes and components for engine, chassis and transmission assemblies for motorsports and a development service provider and supplier for the automotive industry. As the sole Managing Director and owner, Jochen Hülsmann has been supported by a newly created management team since 2022. The team from Steinhagen designs and realises commissioned work today for well-known manufacturers in the automotive industry, both for prototype parts and motorsport components for the highest racing categories.
Turbo-May
Supply and distribution of aftermarket Turbocharging Systems
First parts delivered to Ford Motor Racing
Klaus Ludwig, Nürburgring 4h race, 1988
First parts produced for a Formula One Team
Jochen Hülsmann becomes CFO
Supplier for most of the Teams in german class 1 Touring Car Championship
Start DTM 1991
Supplier for the Supertouringcar Championship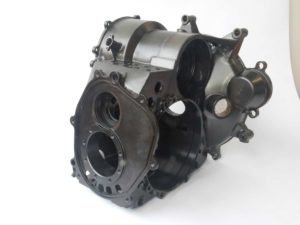 Supplier for Suspension- and Gearbox parts
Supplier for the FIA GT1 World Endurance Championship
Dalmas / Goodyear / Wendlinger, Le Mans 1996
Supplier for Le Mans Prototypes racing teams
Concept car Ford Mondeo Class 1
Assembling of the base frame and prototype Ford Mondeo DTM concept study
Foundation of Lütgemeier GmbH
Continuation of the company by Jochen Hülsmann, Bernd Naujoks and Jürgen Schwinghammer
Small series Supplier for Carrera GT engine parts
Oilpumps and waterpump
Supplier for WTCC
Suspension parts, Lütgemeier gearbox
Supplier for the World Endurance Championship LMP2
Bernhard / Dumas / Long, Sebring 2006
Throttle body, upright
Expansion of the business
in addition to motorsport Prototype service provider for the development departments of OEMs
own prototype foundry
castings in aluminum, steel and gray cast iron
Rapid Prototyping
Using our own sand printer, we achieve significantly shorter delivery times compared to conventional sand casting with pattern.
Expansion of the business
Turnaround from supplier of combustion engine components to supplier of prototype parts for alternative drive systems
Change in the management board
Jochen Hülsmann sole managing director and owner, supported by newly created management team.
Lütgemeier GmbH // Lange Straße 21 // 33803 Steinhagen // Tel: +49 (0) 5204 91 42 42 // Mail: mail@luetgemeier.de